Welcome to Inner Bliss, LLC.





Inner BLISS and the M'Lis Wellness Programs





WELLNESS


MíLis Program Highlights

ē Body cleansing to strengthen vital organs, eliminate accumulated toxins and wastes, and maximize immune system function. This process is recommended 4 times per year for overall health.

ē 100% nutrition through Mílis herbal supplementation and balanced, natural food choices. Supplementation may include CALCIUM for bone strength, DAILY and/or COMPLETE for a healthy combination of vitamins and minerals, ENZYME for digestive health, TRANQUILITY for herbal stress relief, EVENING PRIMROSE OIL and /or FLAXSEED OIL for Omega 6 and Omega 3 essential fatty acids, and VITAL antioxidant to protect the cells from free radical damage and oxidation.

ē A sensible exercise regimen for cardiovascular health and flexibility. Many people seek lifestyle change only if they are currently experiencing health problems. For some, however, the goal is one of preventive health. This is done with the understanding that a healthy lifestyle improves oneís quality of life, appearance, and longevity. A consultation and screening will help to rule out a specific health issue. If a client is determined to be in good basic health and is seeking a lifestyle of preventive health, the wellness program is the course to follow..



WEIGHT LOSS PROGRAM



Healthy Measures encourages natural and sensible weight loss, offered through a complete product line and a 30-day weight loss program, with the help of professionals who know how the body works.

This program will:


Achieve a completely safe weight loss of fat (not muscle).

Appease the appetite naturally instead of suppressing it chemically.

Increase energy levels while decreasing calorie intake.

Provides nutritional support with 5 digestive enzymes.

Lose weight without hunger pangs or digestive discomfort.

Rid the body of accumulated toxins.

Cleanse the gastro-intestinal tract.

Speed up the food processing time.


Our Weight Loss Program is not just another diet; it is designed to take weight off and keep it off. Even more important, this ultimate program improves health. Instead of just covering up symptoms, it gets to the root of other "weight-related" problems and helps the body to correct them naturally and systematically.

Once weight is off, it is easy to keep it off with sensible nutrition and exercise. Weight loss is maintained because the weight loss on our program is the result of losing pounds of fat instead of lean tissue or water.



CANDIDA



The body naturally maintains a friendly yeast/bacteria balance.

When intestinal toxins upset this balance, yeast colonizes and becomes destructive. The Mílis Candida Eradication Program addresses this overgrowth of yeast that affects millions of people. This is done by effectively balancing yeast and bacteria through nutritional support, herbs, and dietary changes. The program not only rids the body of excess yeast and bacteria, but also provides a necessary immunity to keep the body in balance permanently.

Body cleansing to eliminate accumulated toxins and wastes, restore the peristaltic action of the colon, and strengthen vital organs;
A yeast-free diet that will reduce the candida to a non-threatening level. Though every person has yeast in their bodies, natural defense systems generally keep the cells under control. However, poor nutrition or a sluggish or impaired immune system weakens the bodyís ability to fight off yeast. When this happens, yeast colonies grow rapidly and candida may result. Candida grows and lives on what you eat, and it is absolutely critical to eliminate this food source and strengthen the immune system to rid the body of this debilitating condition;
Nutritional supplementation to ensure immune system strength and healthy body function. Mílis formulations that are specific to this program are a multivitamin / multimineral, essential fatty acids, and a friendly bacteria formulation to restrict the growth of yeast and infection, while assisting in digestion.

Candida is an over-infestation of yeast in the body. It invades the brain and every tissue of the body, and it grows and lives on what you eat. It makes your body crave what it needs, and rampages until you eat it. Many medications, such as steroid drugs, birth control pills, and antibiotics can increase the likelihood of a candida imbalance.



HORMONE



Hormones play an active role in overall health and wellbeing. Specific hormones address bacteria and viral infections, while others regulate digestion, blood flow and body tension and stress. Conventional methods utilize drugs and chemicals. The Mílis Hormone Balance Program is the most complete hormone stabilizer ever formulated for both men and women. It is a safe, natural remedy that not only addresses symptoms of Menopause and PMS but also helps maintain hormone balance throughout life.



FIBROMYALGIA



The Mílis Fibromyalgia Program is specifically designed to eradicate the virus that has led to Fibromyalgia. This immune-boosting program relieves the symptoms of FMS within a couple of months. A natural approach is taken, helping the body to heal itselfórather than suppressing the symptoms with traditional prescription medication.


Body cleansing to eliminate accumulated toxins and wastes, strengthen vital organs, and assist in viral eradication.
Juice therapy to provide live enzymes essential for digestion, absorption, energy, and new cell growth.
100% nutrition through supplementation and healthy eating to strengthen the immune system and help the body regenerate.
Herbal formulations, including TRANQUILITY Herbal Stress Relief, RELIEF Muscle & Joint Aid, DHEA Anti-Aging formula and VITAL Antioxidant.
A gradual exercise program to maintain joint and ligament strength and help decrease the amount of muscle pain felt in these areas while becoming stronger and healthier.
Imagery and Manipulation to benefit body and mind.

It is estimated that between 7 and 10 million people in the United States alone suffer from fibromyalgia. The condition affects mostly women between the ages of 25 and 50, though men and women of other ages, and even some children, are also affected.

If you would like to set up an appointment for a Detoxification Program or any of our other health services, please call us at 337-475-BLIS.



Call Inner Bliss for an appointment.

337-475-BLIS (475-2547)














We want your experience
at Inner Bliss
to be stress free!

INNER BLISS Programs incorporate Massages, Contour Body Wraps, and Detoxification of the Feet & Body.

While becoming slimmer, we also incorporate as part of the program a Cellulite Kit. M'Lis believes in caring for the Beautiful Face, Body & Soul! Inner Bliss also carries the M'Lis Skin Care Line. Our products are "all natural" with no additives or fillers nor harmful chemicals for your skin.

We believe in a holistic life style.

Our Massage makes the perfect gift. Ask about our gift certificates!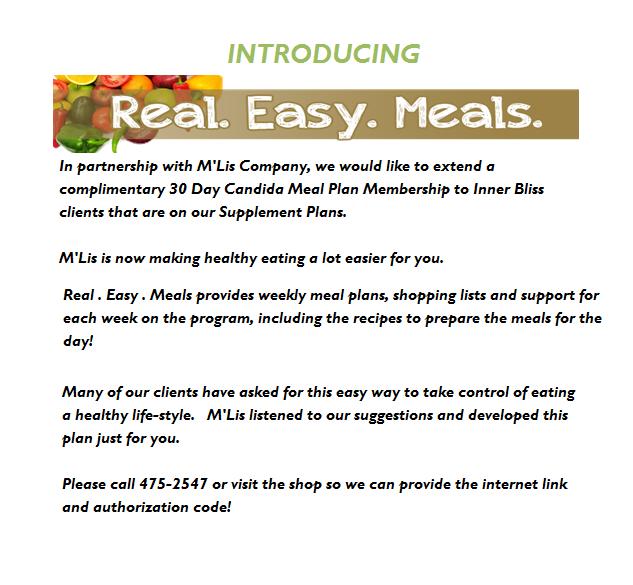 DISCLAIMER: Statements on this website have not been evaluated by the FDA. No product is intended to treat, prevent or cure any disease. Consult your health care professional before use. By viewing this website you acknowledge that the information provided does not diagnose, treat, prevent or cure any disease.